PRE WARM-UPS
'Pre warm ups' and 'Warm ups' and foundational Asana Sequence building that is 'flow'.
Asana means seat of the body, we use the asana to get into the body (not use the body to get into the asana.) This means making the body mind connection.
These warm ups start to ease the body into the practice by elongating the spine as it does in Balasana (The child pose). It also give's us time to connect, and start the slow deep nasal breathing most importantly. (ujjayi is the sanskrit).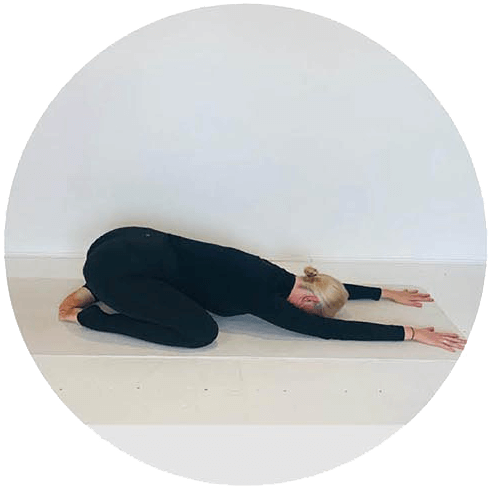 Pindasana or Balasana
Fetus or Child's Pose
Transition: Press to Down Dog
The student usually come's to the mat in an 'out of the body state' due to busy mind, stress and with a wide range of emotions .
To take Balasana, the forehead touches the floor we can feel earth energy, the heart is resting forward dropping down in the chest allowing an increased blood flow to nourish the heart, rest the heart & awaken the heart.
The heart being the central component of a BHAKTI vinyasa style. Although one can begin a yoga practice from almost any position (like standing or seated crossed legged etc) to begin in child pose is in general a place to ground, to earth, to release, the spine and heart muscle whilst resting.
We also acknowledge Balasana as a classic rest pose for the student, at anytime.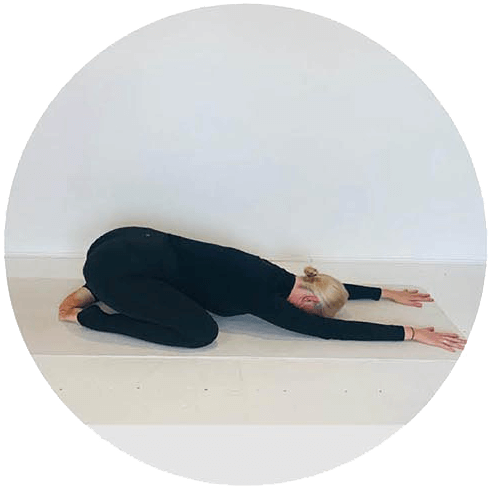 Adho Mukha Svanasna
Downward Facing Dog
Transition: Drop knees
Adho Mukha Svanasana (downward facing dog) is also
another grounding warm up asana due to it's inverted
nature and overall total body stretch and strengthen-er.
It also releases the heart and elongates the spine to
support the 'warming' section. Allowing the 'inward' nature
to support bringing mind to the body and connecting
deeper to the slow breathing, to become present, to
connect, it is also restful to the heart as the flow of blood is
inverted.
Bhujangasana (5x, Hold last one 5 breaths)
Cobra
Transition: Press up, back to down dog
Adho Mukha Svanasana
Downward Facing Dog
Transition: Walk or jump feet to hands
Bhujangasana (5x, Hold last one 5 breaths)
Cobra
Transition: Press up, back to down dog
Adho Mukha Svanasana
Downward Facing Dog
Transition: Walk or jump feet to hands
Adho Mukha Svanasana
Downward Facing Dog
Transition: Walk or jump feet to hands